MARY LYNN
Owner/Operator & Fearless Leader
Fav Quote – "Be the person your dog thinks you are."
Fav Food – anything Italian, especially if it is consumed in Italy
Hobbies – spending time outdoors, most of all hiking with Bob & the K9 kids (Brutus, Bella & Lucy)
Fun Fact – I work with a great team, and love what I do after all these years!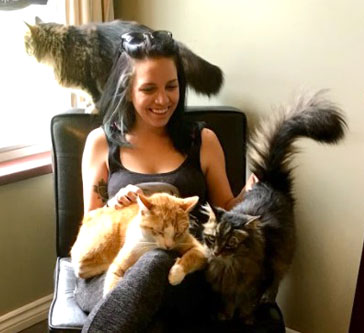 AMANDA
Daycare Manager/Enrichment Activities Coordinator & Crazy Cat Lady in Training
Hidden Talent – small dog whisperer, master of the high pitched dog voice
Fav Quote – "Not today Satan! Not today" – Bianca Del Rio, RuPaul's Drag Race
Hobbies – fishing, painting, sleeping, eating, binging Drag Race
Fun Fact – I have Satan incarnate in the form of a cat living in my house.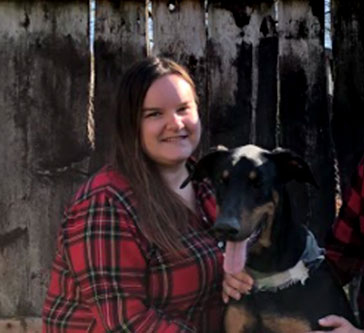 SAM
Office Manager/Field Trip and Training Coordinator & Wednesday Meal Coordinator
Hidden Talent – finding the perfect GIF for any situation
Fav Quote – "It's kind of fun to do the impossible." – Walt Disney
Hobbies – travelling, playing video games with my husband, hiking with my boy Logan, colouring, watching any sport but soccer, reading
Fun Fact – I watch my favourite movie (The Mummy) at least once a month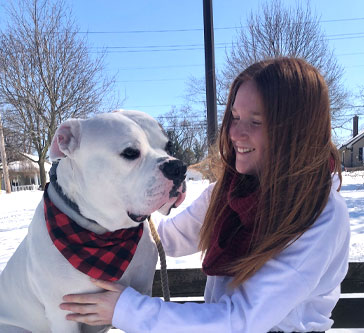 SHANNON
Animal Care Specialist/Daycare Attendant/"Spaw" Specialist & Big Dog Cuddler
Hidden Talent – dog whisperer when doing nail trims
Fav Quote – "Joey doesn't share food!" – FRIENDS
Hobbies – hanging out with my dog, running my dog's social media accounts, watching Friends, baking, hiking
Fun Fact – I can quote every episode of FRIENDS word for word.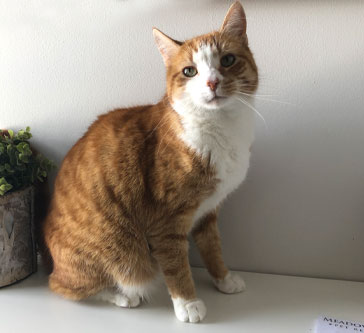 SAM THE CAT
Receptionist/Chief Nap Officer/Parking Director
Hidden Talent – blocking driveways, sneaking into vehicles & napping anywhere (including the bathroom sink)
Fav Quote – "It might look like I'm doing nothing, but in my head I'm quite busy" – Garfield
Fav Food – whatever Shannon has for lunch
Hobbies – testing out beds, napping, hiding in the bathroom sink, inspecting the kennels, stealing hearts
Fun Fact – I was found on the property, grew up with dogs, and now I am a dog
LUCY
Dog to Dog Communication Manager/Doorbell
Hidden Talent – an impressive vocal range & blocking driveways
Fav Quote – "Stop trying to make fetch happen" – Regina George, Mean Girls
Fav Food – pizza & Sam's cat food
Hobbies – zoomies in the sun, snow & rain, playing with Sam the Cat, judging every dog that comes in the building
Fun Fact – I have two German Shepherd siblings, but am 100% the alpha in the house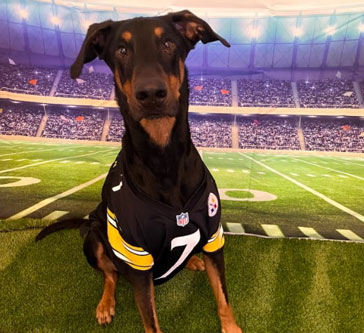 LOGAN
Recreational Equipment Manager/Large Dog Introduction Specialist
Hidden Talent – fitting 2-3 toys into my mouth at once, scaling shelves to get to treats, eating my way through a coat to get to treat crumbs
Fav Quote – "You look like I need a treat"
Fav Food – sweet potatoes & whatever is in your pockets
Hobbies – politely yelling at the girls to throw the ball, eating all the treats, inspecting pockets for treats
Fun Fact – I have more outerwear (coats, bandanas & collars) than Mom and Dad combined
CHARLIE
Small Dog Introduction Specialist/Model
Hidden Talent – being the most photogenic dog on the planet
Fav Quote – "A dog is the only one who loves you more than himself."
Fav Food – peanut butter
Hobbies – Balls! Catching, fetching, chewing, chasing all the balls, all the time!
Fun Fact – I love being dressed up and wearing costumes.